With excitement and anticipation, ISD welcomed all staff back to campus this week. More than 95% of the teachers and faculty are present, with our remaining 2 teachers who will arrive in Dongguan at the end of this month. This means we' ll have 100% of our faculty back on campus for our students!
满怀激动与期待的心情,全体老师和员工于本周返校。目前,超过

95%

的教职员工已经返岗到校,余下两位老师也将于本月底抵达东莞,届时学校老师到岗率达

100%

,确保全校实现线下授课!
The preparation and professional training for faculty will last for two weeks. ISD administrators are providing well-rounded professional development. This includes team building, faculty meetings, classroom preparation, and divisional level professional development. An example of one of the many sessions was an overview of ISD' s English Language Learning model. Mr. Paulson, ISD' s ELL coordinator, provided information on the Co-Teaching Model, such as station teaching and parallel teaching. Within the support provided, it will be easier for new teachers to transition to their new teaching environment and understand ISD curriculum and approaches to teaching and learning.

老师开学前的准备工作和专业培训将持续两周时间。ISD行政管理团队为开学前准备制定了全面的安排,其中包括团队建设活动、老师会议、课室准备和学部专业发展培训。以非英语母语学习者培训为例,学校ELL主任Paulson先生对教学站和同步教学等联合教学模式进行详细讲解。通过学校提供的各项支持和帮助,新老师更快适应新的教学环境且对ISD的课程和教学模式有更深入的理解。

Through team building exercises, faculty meetings, and professional development, faculty will be well prepared for the 2022-2023 academic year and will continue to provide the community with an exception level of support our Qilins!
老师通过参与团队建设活动、参加老师会议和专业发展培训,为2022-2023新学年做好充分准备,将一如既往地给麒麟学子提供高水平的支持!

The new faculty represents 12 nationalities. 100% of new teachers have their bachelor' s degree, and 68% of them hold their masters or doctoral degrees. Additionally, 3 members of the new teachers have over 10 years of teaching experience, and 58% of them have more than 5 years of teaching experience.
新老师团队成员分别来自12个不同的国家。所有新老师均拥有学士文凭,68%新老师拥有硕士及以上学历。此外,其中3位新老师拥有超过10年的教学经验,58%新老师教龄超过5年。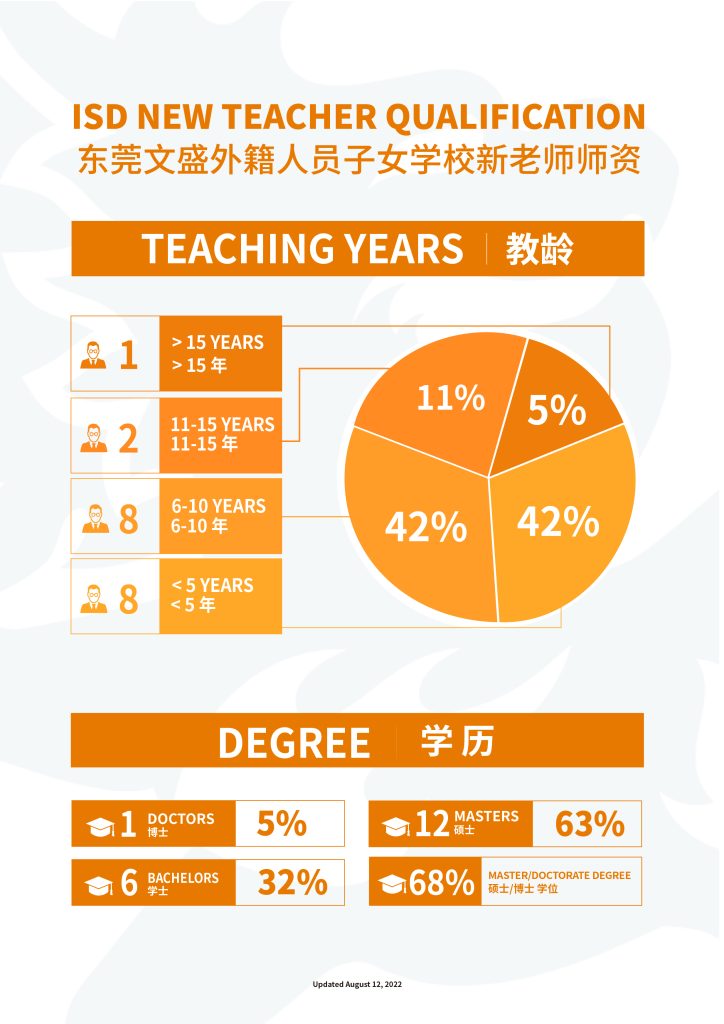 In the coming academic year, with the exceptional new teachers, ISD's highly qualified team will continue to make fantastic contributions towards the education of our students while striving for excellence!
在新的学年,随着优秀的新老师加入,ISD高资质的教师团队将始终追求卓越,为麒麟学子提供优质的教育!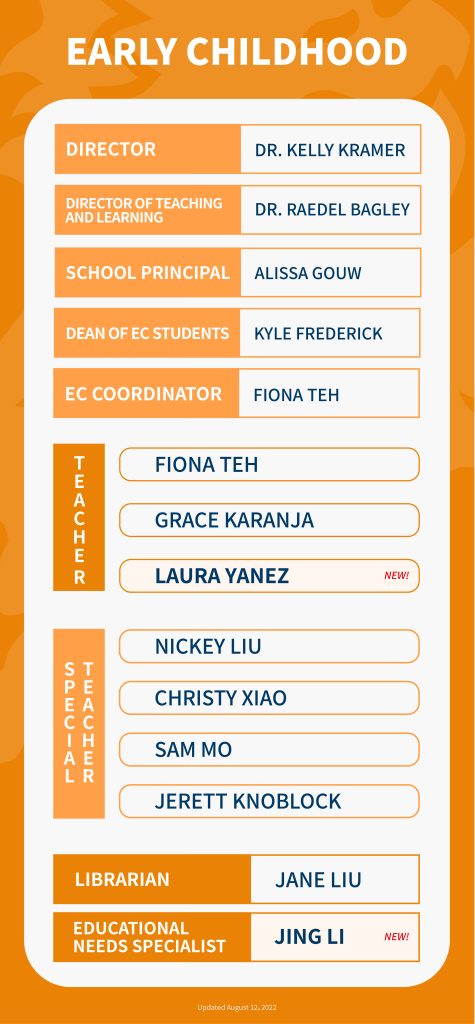 ANNOUNCEMENT