Creating a Safe Campus at ISD
2022-10-11

Focusing: MAP Growth at ISD
2022-10-14

ISD students had so many adventures during their summer holiday and came back to school refreshed. What made this past summer holiday special was that they enjoyed their journey with ISD's Champ, the Qilin. Champ's name stands for the attributes that are seen in ISD students:  Caring, Honest, Accountable, Motivated, and Persistent. The trips with Champ allowed our students to learn about all those expectations outside the classroom! Let' s explore how our students and Champ spent their summer!
这个夏天,麒麟学子度过了一个愉快且美好的假期,以精神饱满的状态开启新学年。今年暑假的特别之处在于,学生带上了

Champ

(麒麟的名字)开启他们的暑假之旅。麒麟

Champ

象征着

ISD

精神,即关爱、诚实、负责、积极与坚持等美好品质。学生在与

Champ

作伴的旅途中,通过课堂以外的方式学习和培养这些品质。一起跟随

Champ

的脚步,回顾他们美妙的暑假之旅吧!
ISD 학생들은 여름 방학동안 많은 경험을 하고 신하게 학교로 돌아왔습니다. 지난 여름 방학을 특별하게 만든 것은 그들이 ISD의 챔피언인 Qilin과 함께 여행을 즐겼다는 것입니다. Champ의 이름은 ISD 학생들에게서 볼 수 있는 특성인 배려, 정직, 책임감, 동기 부여 및 끈기를 나타냅니다. Champ와의 여행을 통해 학생들은 교실 밖에 세상에 대해 배울 수 있었습니다! 우리 학생들과 Champ가 여름을 어떻게 보냈는지 알아봅시다!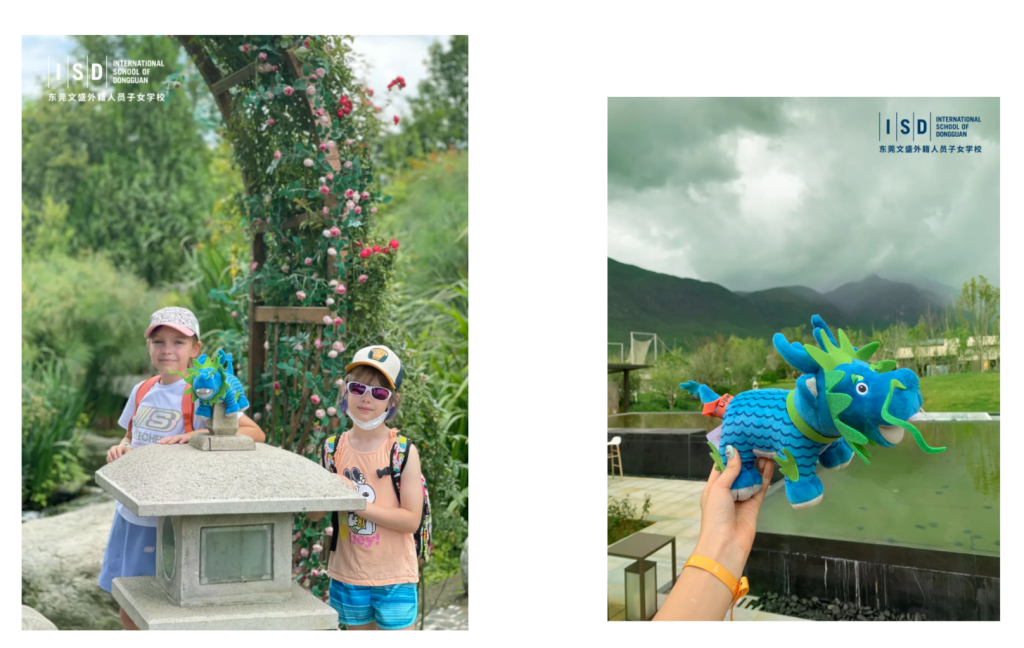 Nothing screams summer and holidays like beaches and swimming pools! Students and Champ swam with their friends, enjoyed the dreamy ocean breeze and explored the water.
阳光沙滩与游泳池是暑假的不二选择!学生和

Champ

一起,与朋友们水中畅游、享受梦幻般的海风,体验戏水的乐趣。해변과 수영장만큼 여름과 휴가를 신나게 만드는 것은 없습니다! 학생들과 Champ는 친구들과 수영을 하고 꿈결 같은 바닷바람을 즐기고 물을 탐험했습니다.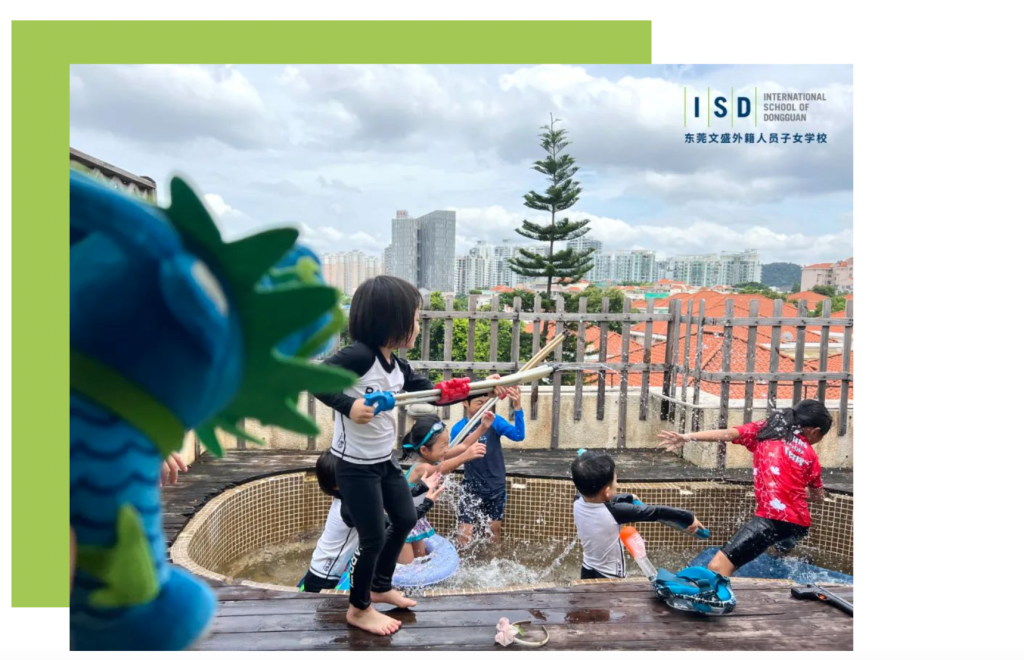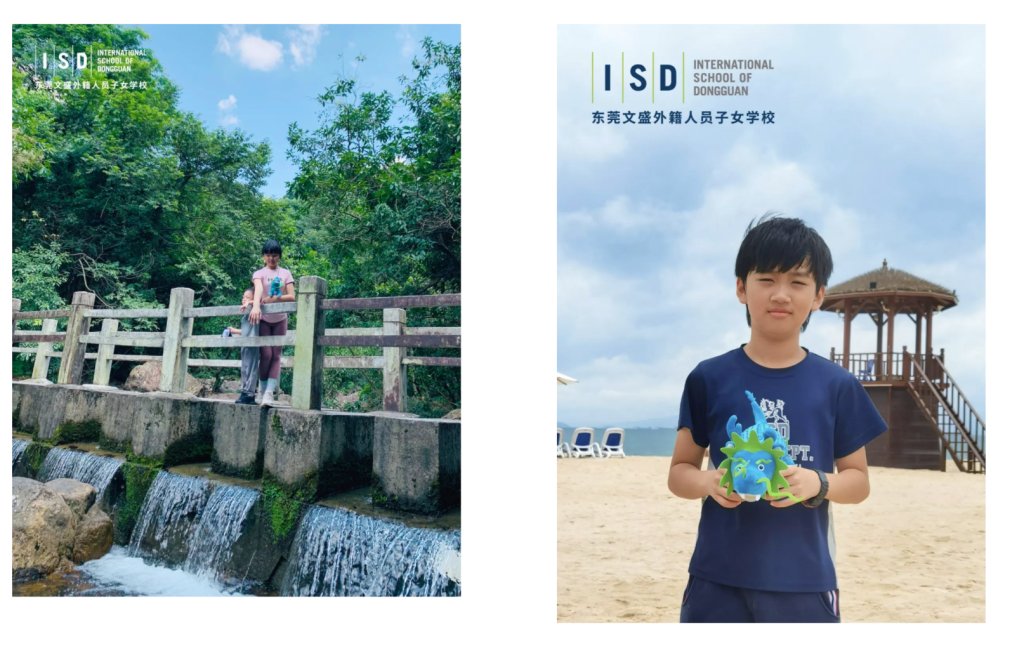 Together with Champ, Richard (in grade 3) visited the Xiaolangdi Reservoir Dam, which is the largest project on the Yellow River, second largest hydropower station to the Three Gorges project on the Yangtze River. They enjoyed the scenic area around the dam and watched water gushing out from the dam for flood control!
其中,三年级学生

Richard

和

Champ

一起参观了小浪底水库大坝。这是黄河流域最大的水利工程,仅次于长江三峡工程的第二大水力发电站。他们一起游览水库大坝周边美好的风光,还观赏巨大水流从大坝奔涌而出的壮观场景!
Champ와 함께 Richard(3학년)는 양쯔강의 Three Gorges 프로젝트에 이어 두 번째로 큰 수력 발전소인 황강에서 가장 큰 프로젝트인 샤오랑디 저수지댐을 방문했습니다. 그들은 댐 주변의 경치를 즐겼고 홍수 조절을 위해 댐에서 솟아나는 물을 보았습니다!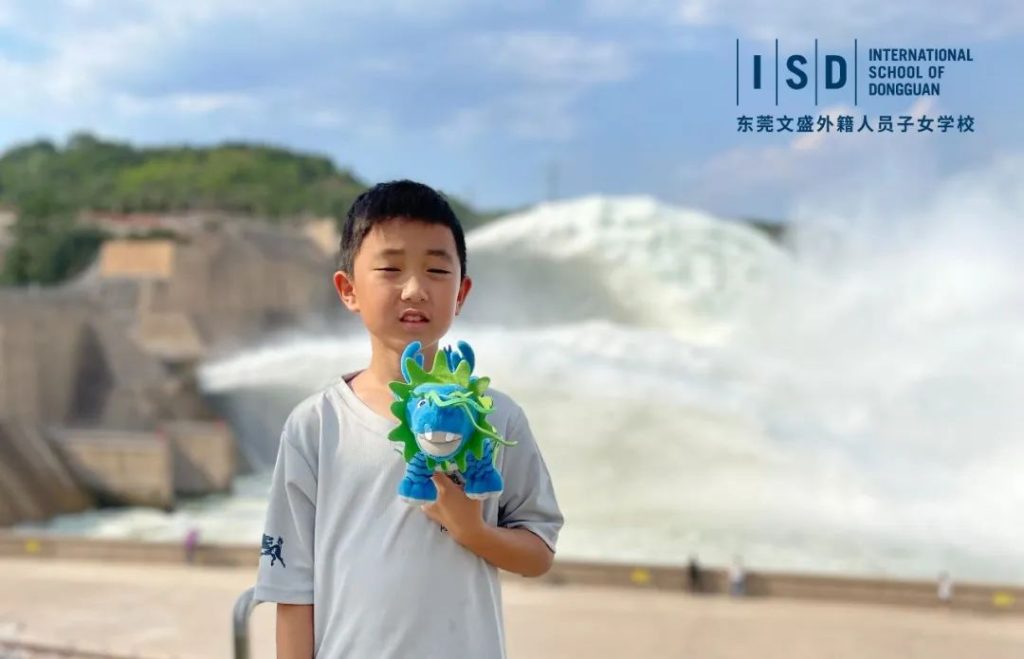 ISD students and Champ spent their summer vacations going to many tourist attractions. For example, they appreciated Longmen Grottoes, rode a cable car with Champ in the Wudang Mountains and toured Yulong Snow Mountain, Lijiang, Dali, Guilin and more. In the journey, ISD students experienced new cultures and people, worked together with their peers or families to accomplish goals, and challenged themselves through physical activities.
麒麟学子和

Champ

一起畅游各地,领略美好风光。例如,他们去参观洛阳龙门石窟、和

Champ

一起在武当山乘坐索道缆车,同游玉龙雪山、丽江大理和桂林等旅游胜地。麒麟学子在路途中体验丰富多彩的文化和风土人情,与同伴或者家人一起努力实现目标,并通过运动不断地挑战并且超越自己。
ISD 학생들과 Champ는 여름 방학을 다양한 관광지에 다니며 보냈습니다. 예를 들어, 그들은 롱맨동굴을 감상하고 우당산에서 Champ와 함께 케이블카를 타고 위롱 설산, 리장, 다리, 구이린등을 여행했습니다. 그 여정에서 ISD 학생들은 새로운 문화와 사람들을 경험하고 동료 또는 가족과 함께 목표를 달성하고 신체 활동을 통해 도전했습니다.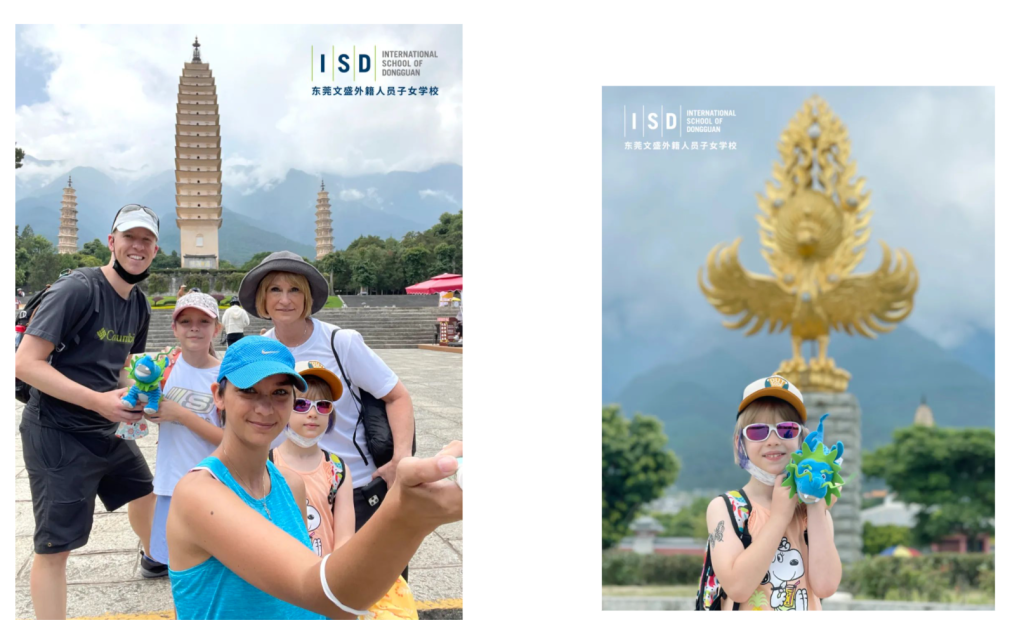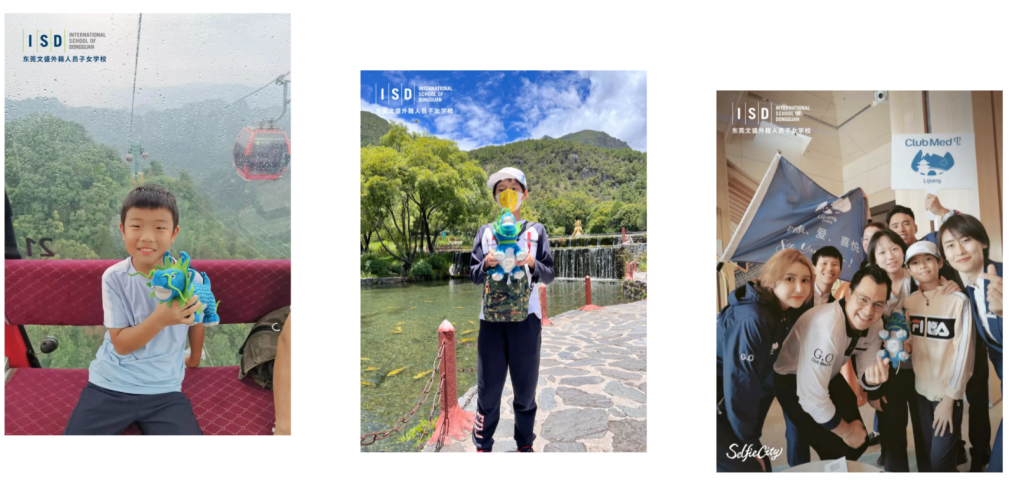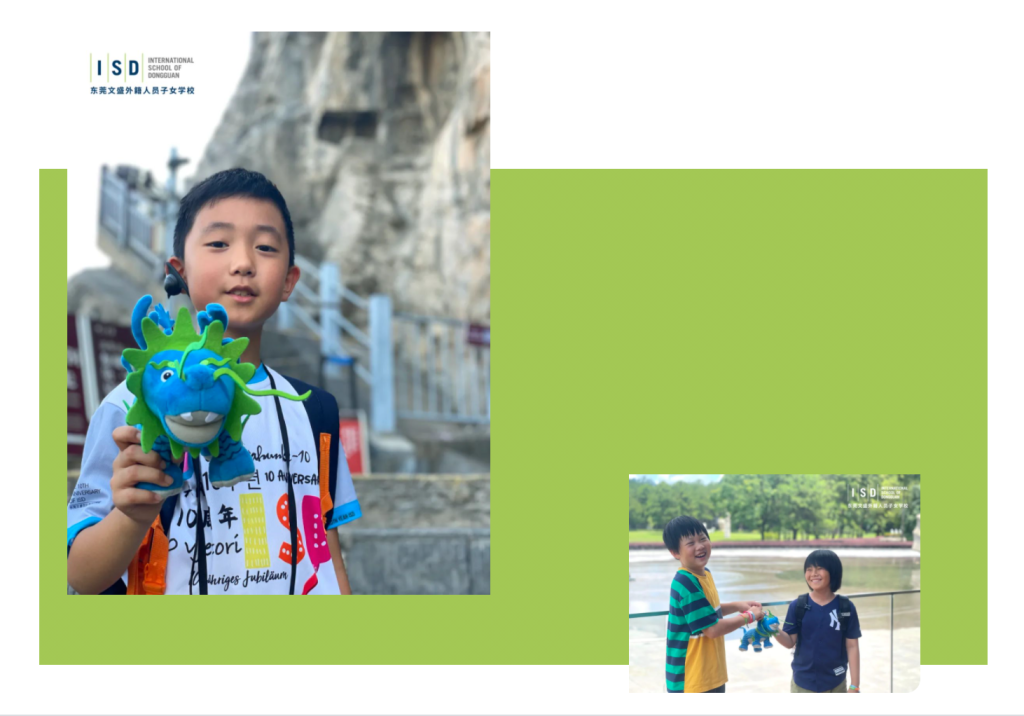 An example of experiencing Chinese culture is when Grade 6 William took Champ to Xi'an. They were able to appreciate this ancient capital of 13 dynasties and discovered the rich history of more than 3000 years of the city.
六年级学生William和

Champ

来到了十三朝古都西安,身临其境领略当地

3000

多年深厚的历史底蕴。
중국 문화를 경험한 예는 6학년 윌리엄이 Champ를 시안으로 데려갔을 때입니다. 그들은 13개 왕조의 이 고대 수도를 감상할 수 있었고 도시의 3000년 이상의 풍부한 역사를 발견할 수 있었습니다.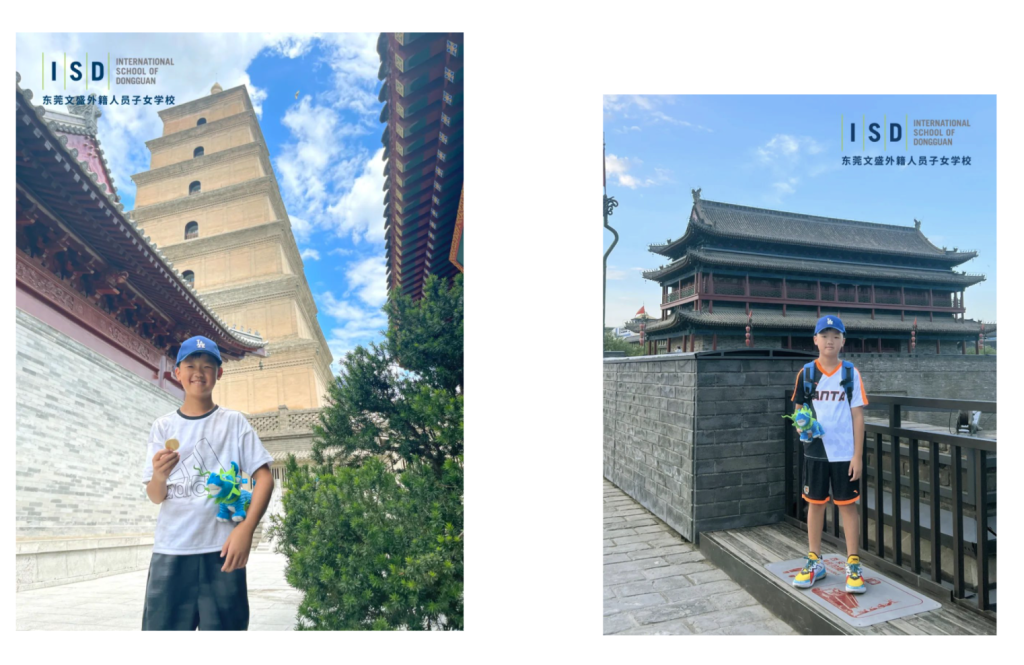 William and Champ also joined an exciting tour up the beautiful Mount Hua. They saw amazing views at the top of the mountain and learned about its long and fascinating history. William gave his best to reach the summit and showed persistence and determination!
Willian

带着

Champ

攀登美丽的华山,从高山俯瞰令人惊叹的景色,并了解华山的悠久历史。

Willian

朝着高峰努力前进,展现出麒麟学子坚持不懈的品质和决心!
윌리엄과 Champ도 아름다운 화산을 오르는 흥미진진한 여행에 합류했습니다. 그들은 산 정상에서 놀라운 전망을 보고 그 길고 매혹적인 역사에 대해 배웠습니다. 최선을 다해 정상에 오르며 끈기와 결단력을 보여준 윌리엄!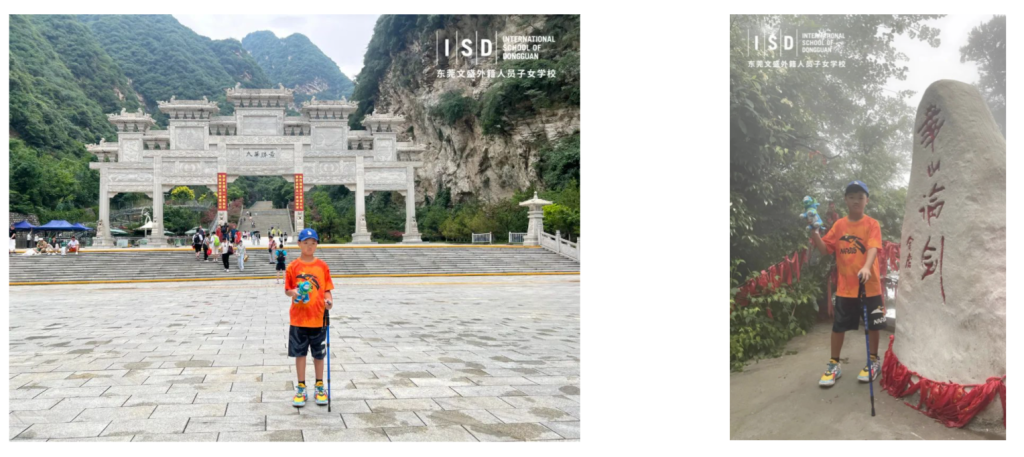 Besides those wonderful tourist attractions, ISD students and Champ explored museums including Wuhan Art Museum and MG Space in Shenzhen. Through visiting the museums, they were able to stimulate new ideas and were exposed to new perspectives on arts and science.
麒麟学子和

Champ

除了游历风景名胜,还到博物馆进行参观,其中包括武汉美术馆和深圳麦高创客教育空间。他们在参观的过程中获取新灵感,同时以全新的视角探索艺术和科学之美妙。
그
멋진
관광
명소
외에도
 ISD 
학생들과
Champ
는
우한
미술관과
선전의
 MG 
스페이스를
포함한
박물관을
탐험했습니다
. 
박물관
방문을
통해
그들은
새로운
아이디어를
자극하고
예술과
과학에
대한
새로운
시각을
접할
수
있었습니다
.